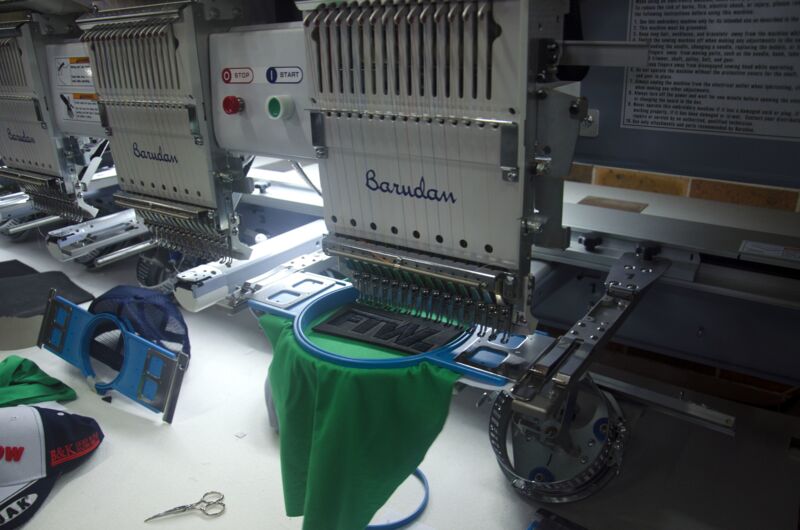 The original, bulletproof decoration choice
Fantastic for workwear, caps, jackets and bags
Custom Embroidery in Melbourne
At Blast Ink, we provide a high-quality embroidery service known not only in Melbourne but Australia wide for its premium quality. This timeless process provides a luxe finish that jumps off of the garment and bulletproof results every time.
Each order is produced on the highest-quality industrial equipment to ensure that you receive the most outstanding product.
Our Embroidery team is highly experienced and efficient in consistently transforming your dream design into reality.
Whether your design or logo is simple or is pushing the boundaries of what this classic process can achieve, we assure you that we'll deliver the best possible outcome.
Our business model allows us the ability to offer everything from small (10+) to large (1,000's) Embroidery orders all at affordable prices with fast turnaround times.
We can supply anything from Multi-coloured Embroidery to 3D (Puff) Embroidery on T-shirts, Polo, Cap, Beanie, Workwear, Jackets or any article of apparel from our enormous range wholesale clothing.
Our Embroidery is an excellent option to give your clothing a professional and long-lasting finish.
Whether you are looking for Custom Embroidery for Uniforms, Workwear, Promotional Material, Sportswear, or something completely different, we'd love to help!
Click here to get a Free Quote
The benefits of Our Custom Embroidery Service:
High-quality
Extremely affordable
Durable
3D (Puff) Embroidery an option
Extremely versatile
We will be happy to help you through the process and ensure that your design is carefully crafted and before being delivered directly to your door with no fuss.
Get in touch today, and we will help you advertise your brand using our premium quality Custom Embroidery Service.
Send us your logo, text or artwork with your order details, and we'll take care of the rest!
Looking for something a little different?
We also offer discounted Badges & Labels including Woven, Printed and Embossed/Debossed Leather, which we can sew onto any of our wholesale garments or headwear.
If you have any questions related to our printing services, please contact us now!